Thanks to Colleen from
Curtains are Open
, we recently recieved a commission to do two dolls dressed for the beach. Colleen's good friend Kim was looking for a special surprise for her two little girls upon arrival to their cottage following the end of the school year.
These are the two little beach bum-ettes:
Polka dot bikinis!!!
Complete with hand embroidered bikini straps, anklettes, toe nail polish, and yes ... as
promised
... belly buttons!!!
Turquoise and green.
Pink and orange.
I think that Kim's little dolls are going to love their surprises when they get to the cottage this summer. What lucky girls!!
We're linking to: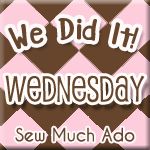 Blue Cricket Design