A while back Sonia and I picked up this really luxurious olive green crushed velvety fabric at Atlantic Fabrics (for an awesome price, I might add). We didn't really know what we wanted to use it for, but we couldn't leave without it.
When we were preparing for our spring shows we decided this fabric would make great skirts and dresses for our dolls. I thought I'd share a few of the dolls we've since created.
Both dolls belong to our
Big Sister Collection
:
Big Sisters are very sophisticated. They love to read, ride bikes and help Mom and Dad around the house. Great friends for big-kid girls (aged 3 and up), these special cuties love to tell stories, dance, and drink tea. Plus, they are especially great at keeping secrets and picking out their own clothes.
Turns out the green fabric was awesome for embroidery. We had the doll in the green dress completed for a long while but I was eager to do some embroidery accents for her dress. Yesterday I finally got my inspiration...
What do you think? She's so beautiful - I couldn't put her into the storage box with the other dolls! She's been sitting on top of my entertainment centre since she was finished and I can't take my eyes off of her. The flowers really pop against the green and the effect of the three colours used for the petals is quite pleasing - especially when viewed from a short distance.
The first doll has been listed in our
shop
and the second doll will be listed once I'm finished admiring her. We have several
Big Sister
dolls listed in the shop - the concept of the dolls 'dressing themselves' offers up so much freedom and creativity - they are very fun to make!
Thanks for stopping by!
We are linking to: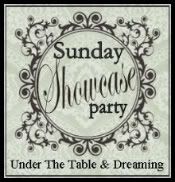 Swing by these great blogs to see what other great crafters have been up to this week!